The ColorOS 12 beta worldwide version, which is based on Android 12, has been published by OPPO. ColorOS 12 brings a number of new features to the table, including a more inclusive design, new Sidebar tools, enhanced privacy options, and more. Last year, OPPO was one of the few smartphone manufacturers to update their smartphones to Android 5.0.
ColorOS 12 upgrade schedules for supported devices were recently issued by the company. The beta version will be accessible for a range of devices, including less expensive versions like the A53s 5G. Let's have a look at the ColorOS 12 beta-enabled devices.
OPPO has announced that the ColorOS 12 beta and stable versions will be released to its eligible handsets. The number of handsets that will receive the Android 12 upgrade has been revealed by the company.
OPPO revealed the following ColorOS 12 beta rollout timeline at their ColorOS 12 launch event: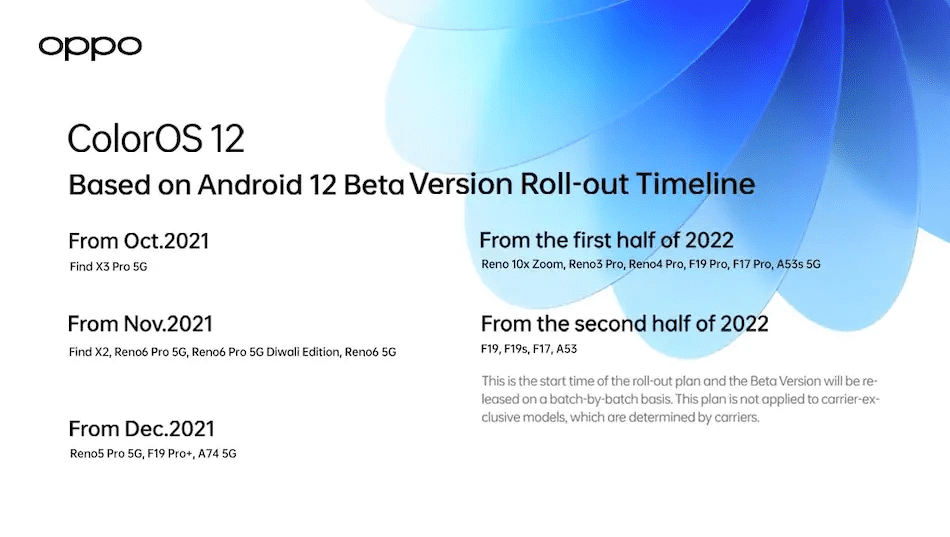 Rollout Period
Devices
October 2021
Find X3 Pro 5G
November 2021
Find X2 Pro
Find X2 Pro Automobili Lamborghini Edition
Find X2
Reno 6 Pro 5G
Reno 6 Pro 5G Diwali Edition
Reno 6 5G
December 2021
Reno 6
Reno 5
Reno 5 Marvel Edition
Reno 6 Z 5G
Reno 5 Pro 5G
Reno 5 Pro
F19 Pro+
A74 5G
A73 5G
H1 2022
Find X3 Lite 5G
Find X3 Neo 5G
Find X2 Neo
Find X2 Lite
Reno 10X Zoom
Reno 5 5G
Reno 5 F
Reno 5 Lite
Reno 5 Z 5G
Reno 4 Pro 5G
Reno 5 5G
Reno 4 F
Reno 4 Lite
Reno 4 Z 5G
Reno 4 Pro
Reno 4
Reno 4 Mo Salah Edition
Reno 3 Pro 5G
Reno 3 Pro
Reno 3
Reno 5 A
F19 Pro
F17 Pro
A94 5G
A94
A93
A54 5G
A53s 5G
H2 2022
F17
F19s
F19
A74
A53
A53s
A16s
The company further clarifies that these dates represent the start of the rollout plan, that beta versions will be provided in batches, and that the plan excludes carrier-exclusive devices.