Augmented reality (AR) is a digitally enhanced depiction of reality that is formed via the use of digital visual components, audio, or other sensory stimuli. It's a growing trend among companies dealing with mobile computing and commercial apps.
One of augmented reality's key aims, amidst the expansion of data collecting and analysis, is to emphasize certain elements of the physical environment, raise comprehension of those qualities, and generate sensible and accessible information that can be used in real-world applications. Big data may help businesses make better decisions and get insight into their customers' purchasing behavior, among other things.
Check: Virtual Reality and Future scope of Virtual Reality
Augmented reality is developing and becoming more frequently employed in a wide range of applications. Since its beginnings, marketers, and technology firms have fought to overcome the perception that augmented reality is nothing more than a marketing tool. Consumers, on the other hand, appear to be reaping concrete benefits from this feature and anticipate it as part of their buying process.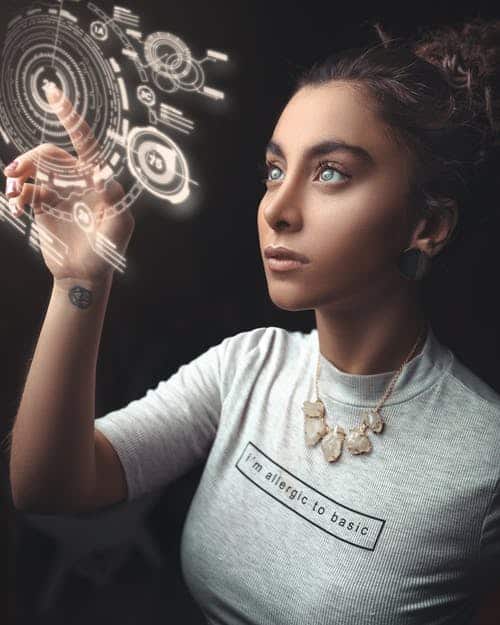 To improve the experience, augmented reality leverages the current real-world environment and overlays virtual information on top of it. Virtual reality, on the other hand, immerses users, allowing them to "inhabit" a whole new environment created and recreated by computers. Users may be immersed in an animated scene or a snapshot of a real-world site that has been integrated into a virtual reality program. Users can look up, down, or any other direction using a virtual reality viewer as if they were truly there.
The mobile game Pokemon Go, which was introduced in 2016 and rapidly became an inescapable phenomenon, is perhaps the most renowned example of AR technology. Pokemon figures appear in the real world on your sidewalk, in a fountain, even in your own bathroom, and players must identify and capture them.
Aside from games, there are as many applications for augmented reality in our daily lives as there are Pikachu on the loose in Pokemon GO. Here are a couple of such examples:
Augmented reality is used in enhanced navigation systems to superimpose a route over a live image of the road.
Broadcasters utilize augmented reality (AR) to put lines on the field during football games to illustrate and evaluate plays.
IKEA, the Swedish furniture and homewares retailer, has developed an augmented reality (AR) software called IKEA Place that allows you to preview how a piece of furniture will appear and fit in your room.
Military fighter pilots view an augmented reality projection of their altitude, speed, and other data on their helmet visor, eliminating the need to squander concentrate by glancing down.
An AR projection of a 3-D brain is occasionally used by neurosurgeons to assist them during procedures.
AR can project images of old civilizations over today's ruins at historical places like Pompeii in Italy, bringing the past to life.
Ground staff members at Singapore's airport use augmented reality glasses to see information on cargo containers, reducing loading times.
Current companies running AR
1. ScienceSoft
ScienceSoft is an augmented reality firm with a 25-year track record in 3D modeling and a 16-year track record in AR development. This AR/VR firm creates high-end, complicated AR apps that handle occlusion and assure high-precision 3D model placement.
End-to-end creation of marker-based and location-based AR apps, including design and management of AR content (3D models, metadata) and training of scene recognition and object identification algorithms are among the company's services and projects. Retail, advertising, mobile banking, sports, interior design, and other sectors and areas benefit from ScienceSoft's AR services.
2. Apple
Apple's ARKit SDK supports automated real-time occlusion, real-time motion capture, RealityKit, and Reality Composer for iOS devices. For WebAR experiences, it also connects with the Safari browser.
Mobile phones, PCs, AI, IoT, and now AR & VR are among the technological goods, services, and platforms that the firm manufactures and sells. In the field of augmented reality, the business today offers one of the major AR platforms in the world, dubbed ARKit, which is used to create AR apps and experiences for mobile phones and gadgets.
3. Microsoft
Produces the HoloLens augmented reality headset. The most recent version is HoloLens 2, and HoloLens 3 is on the way. Holographic displays and software for PCs and mobile devices, as well as AR accessories like hand controllers, are among the various items and applications. On the Microsoft app store, they also enable AR experiences, games, and applications.
Microsoft creates PCs that support augmented reality (AR) technology and add-ons, as well as the HoloLens AR headset, AR experiences on the Microsoft Store, and AR accessories. The company's clientele includes both individuals and businesses, and it creates its own customer initiatives.
4. Niantic
The business is the creator of the blockbuster Pokemon Go game, which grossed $2 billion in in-app purchases. Ingress Prime and Harry Potter: Wizards Unite are two of the games it has made.
Niantic is a studio and platform for augmented reality games. Ingress Prime, Harry Potter: Wizards Unite, and Pokemon Go are just a few of their mobile games. Among the companies represented are Google, Motorola, Vodafone, Circle K, Mitsubishi UFJ Financial Group, Hint Water, and Jamba Juice.
5. Scanta
This US-based startup entered the AR market in 2016 and is based in Lewes, Delaware. AR Emojis were utilized to include AR characters in the creation and sharing of videos. It was the world's first AR Emoji software, allowing users to connect with one another while expressing their feelings and exploring the world of augmented reality using Pikamojis using unique avatars. Their 3D avatars may be found in the Unity marketplace as well.
Other services given include Machine Learning security methodologies and tools to help companies counter Machine Learning security risks in their computer systems, in addition to augmented reality development (apps, platforms, and experiences). Their VA Security technology, for example, defends virtual assistant chatbots against machine learning assaults. It has partnered with firms like Google and Apple to build AR emojis for their products, establishing some of its benchmark projects in the process.
6. Next/Now
This Chicago-based startup, which was founded in 2011, creates apps that enhance physical and digital augmented reality experiences using unique display concepts, intuitive user interfaces, motion, and gesture involvement. The company is an augmented reality studio that generates cutting-edge augmented reality experiences. It even developed an AR Face Painting beauty app that won the Elevate Awards and was ranked top in 2017. Other honors include the Best Use of a Single Technology award from the Experience Design & Technology Awards in 2016.
This is one of the AR startups that has collaborated with well-known brands, such as Audi, LG, Allstate, Mazda, and Intel, to create AR experiences. Chevron's Bumper to Bumper AR app, LG's various interactive video Times Square collaborations, Target's in-store augmented reality kiosks, and the Fremont Street Experience with multiple immersive films on the world's largest video screen are just a few of the projects it has worked on.
7. VironIT
VironIT creates software for start-ups and other businesses, including mobile applications, web-based applications, and commercial software solutions, as well as software integration, support, and maintenance.
This company's services and projects include software development for major corporations, SMEs, start-ups, and even individuals. Clients include Sport.com, Meetville.com, Turkcell, PLUGGD, Hackspace, Thumbtack Trelleborg, and AnatomyNext.
Current use of AR
AR is quickly becoming one of the most important drivers of the digital industry. That's because augmented reality applications, headsets, and smart glasses have the potential to improve nearly every industry, from retail to manufacturing. AR is already shown its ability to tackle some of the world's most pressing issues.
Here are the top application cases for AR technology in real life, ranging from education to remote work:
1. AR is well-used in games like "Pokemon Go"
Despite the fact that its popularity has fallen since 2016, "Pokemon Go!" still maintains a devoted following. But it was the way it mixed the actual world with popular Pokemon characters that made this game so appealing.
This is the epitome of augmented reality, and it's also a lot of fun. Since then, several other games have imitated the concept, including "Jurassic Park" (bet you can't guess how this one works) and Niantic's "Harry Potter" themed AR game.
2. AR is being used in medical training
Medical education is now using augmented reality. It has a wide range of uses, from MRI to conducting extremely delicate surgery. Students at Case Western Reserve University's Cleveland Clinic, for example, are taught anatomy utilizing AR headsets or augmented reality glasses. They may study the human body without dissecting cadavers or observing live procedures thanks to this technology.
But it isn't just about training. AR may also be used in operations to assist eliminate the necessity for more typical intrusive cameras and probes. InnerOptic Technology's Magic Loupe, for example, works with Osterhout Design Group (ODG) and Microsoft's HoloLens to provide doctors a better view into the insides of their patients. Invasive operations might become more accurate and safe as a result of this.
3. AR is ideal for interior design and modeling
Given this technology's potential, it's only natural that it's found uses in architectural design and construction. During the planning process, augmented reality may assist experts in easily visualizing their final ideas.
They can even use headsets to take virtual tours of their creations and tweak with them in a completely realistic environment. This may even be extended to city planners, who can model complete city layouts and take a tour of them. AR is simply ideal for any task that requires spatial design.
4. AR is entering the classroom
In your child's school, AR may be used in a variety of ways. Teachers and other educators are beginning to use augmented reality to assist pupils to become more interested in the subject at hand. AR can deliver an enjoyable and engaging learning experience for students of all ages, from astrophysics to music classes.
5. AR is being used in television broadcasts
AR is becoming increasingly popular on television, from weather reports to sporting events. AR is ideal for this type of application since it truly brings some themes to life for the general audience.
AR might be utilized to assist you to grasp more esoteric issues like educational films, live sporting events, or other live news broadcasting. A noteworthy example is the BBC's coverage of the General Election. AR applications of this type are both entertaining and immersive.
Future of AR
In 2020, augmented reality technology is expected to expand at an unprecedented rate. Commercial use of the technology has skyrocketed as a result of its adoption by industry giants like as Microsoft, Apple, Google, Facebook, and Amazon. According to MarketsandMarkets, the AR technology industry is valued $15.3 billion. It's worthwhile to investigate the many channels and trends that are driving the brisk augmented reality business. AR active devices were anticipated to reach 598 million units by the end of 2020, with a projected increase to 1.73 billion units by 2024.
1. Mobile AR: Apple ARKit 4, Google ARCore
ARKit 4, the newest version of Apple's open-source augmented reality development tools, has been launched. Since 2017, Apple has released several ARKit upgrades, including ARKit 2.0 at WWDC 2018, ARKit 3.0 at WWDC 2019, and ARKit 4.0 at WWDC 2020.
Google's rival ARCore technology is also making significant advances to stay competitive. With the addition of publicly-created Street View photographs, Google's ARCore is breaking new ground. Google will accept submissions for Street View photographs from Android users who have an ARCore-capable smartphone.
Since their release in 2017, these technologies have aided developers in gaining a foothold in the augmented reality industry. With over 2,000 applications accessible, the Apple App Store offers much more AR-capable apps than the Google Play Store. However, because Android has a bigger worldwide market share than iOS, ARCore is more readily available.
2. AR In Shopping & Retail
Giving customers a virtual shopping option has been a significant trend for retailers such as American Apparel, Uniqlo, Lacoste, Kohls, and Sephora. Others have created virtual fitting rooms for their consumers. Customers may use this to have a try-before-you-buy experience from the comfort of their own homes.
This is especially significant given the impact of social distancing measures on shops during the COVID-19 epidemic. The technology of virtual fitting rooms isn't going away anytime soon. Its predicted worldwide market size is $10 billion by 2027.
Although the epidemic has necessitated the use of augmented reality (AR) for clients who are unable to visit an in-person store, the benefits, convenience, and rising acceptance of virtual fitting room technology indicate that it will stay popular for many years to come.
3. Artificial Intelligence Is Used in Augmented Reality
Artificial intelligence's importance in augmented reality cannot be overstated. Because of the enormous demands imposed on augmented reality software, it cannot depend exclusively on human programming to render virtual items against a real-world backdrop. Without a competent staff of data science engineers, machine learning and artificial intelligence cannot work.
Training data analysis and gathering are critical for the success of a machine learning program meant to assist AR software. Along with AR, AI may play a supporting function. For example, utilizing an AR experience on their smartphone, in-store consumers can be provided automated suggestions.
Chatbots backed by natural language processing (NLP) technology would provide these recommendations. Without AI assistance, AR-powered virtual fitting room technology would not be conceivable. AI is critical in evaluating a user's face traits and shapes, as well as the rest of their body if needed.
4. Using Augmented Reality for Navigation
The benefits of AR for indoor navigation are obvious, with increased bandwidth and control over an inside environment. Bluetooth beacons, ceiling antennae, and QR codes are just a few of the technologies that may be employed to improve this experience at different scales.
In circumstances when a strong Wi-Fi network already exists, Apple's iPhone AR is capable of handling interior positioning by using Wi-Fi RF patterns. ARKit and ARCore-based applications assist customers in navigating airports, retail malls, and other venues. Advances in AR technology have the potential to significantly enhance in-store navigation.
This can assist customers in finding exactly what they are seeking while shopping in-store. Furthermore, with ARKit 4, Apple added Geo Tracking, a strong tool for outside AR navigation that makes use of street view to assure the optimal location.
5. Portable Augmented Reality
Viewing virtual things using the camera of a smartphone is far inferior to experiencing AR through a headset. In their present versions, however, headsets like Microsoft's HoloLens and the Varjo XR-1 are simply too big and pricey for non-enterprise users.
Despite modest growth, the industry is progressively moving toward recognizing AR headsets as a 'wearable' technology comparable to smartwatches and earphones. AR's relevance and demand will rise once headsets become comfortable, inexpensive, and socially acceptable.
Several businesses are working on making AR glasses that are more consumer-friendly. Apple Glass is a rumored AR glasses project aimed at consumers that might be introduced in the next few years.
Future of AR in Gaming
For several years, augmented reality (AR) has been promoted as the next great computing platform, and it is one of the popular technologies that will soon become part of everyday life. Both VR and AR are viewed as gaming platforms, which makes sense given that both are designed to provide immersive experiences.
AR games will be far more immersive and natural than they are now, thanks to strong 5G mobile devices. VR and AR games may be used in conjunction with games for mobile phones, PCs, and consoles to provide completely immersive gameplay that transports you inside.
However, if AR and VR can motivate gamers to embrace the environment around them, whether it's a larger real-world or imaginary universe, the technology will become associated with gaming.
While real-world interactions separate AR from VR, augmented reality will continue to encourage more social contact rather than less. There will likely be forced AR and VR games in the near future, but AR game settings will develop significantly.
Immersive gaming becomes more likely with improved UX, and gamers will enjoy their gaming experiences. Most importantly, incorporating VR and AR into esports games can provide a huge competitive edge over traditional games.
There's no denying that a medium like augmented reality gaming can bring the finest of the physical world and the best of our digital world together. In any case, augmented reality (AR) can be the missing piece in the jigsaw, bridging the gap between actual and virtual gaming experiences in esports games and AR in general.
AR technology appears to be ideally adapted to mobile gaming, since it can be used to generate both new and current surroundings, resulting in a more immersive and integrated gaming experience that combines the best of both worlds.
AR games technologies
AR game production has advanced to a new level as a result of mid-generation advancements and technological advancements. Gamers and developers have a variety of alternatives at their disposal, which they may use to make their vision and creativity unmatched. There are fantastic game production businesses all around the world that have begun to use augmented reality while keeping the newest trends in mind.
Unity 5
ARPA
XCode 7
Wikitude
Vuforia
AR games are available on a variety of platforms. It has muddled the distinction between what is real and what is manufactured by a machine. Not only that, but it's forever altering the way people use and interact with technology.
Obstacles to Overcome in AR Gaming's Future
There are a few constraints that need to be worked out because the technology isn't quite there yet. Designers of video games, for example, are working hard to create a flawless virtual environment. This virtual environment will provide realistic real-time direction alignment as gamers wander around. It'll also be able to tell where part of the virtual world the player is in.
Augmented and Virtual Reality Gaming Improvements
Even though both VR and AR have altered the game landscape, there is always hope that things may improve further. There is a belief, for example, that players would be able to move in a virtual gaming environment without having to move in the actual world. Others predict that by utilizing a glove with motion sensors, gamers would be able to control games on a screen.
AR technology appears to be ideally adapted to mobile gaming, since it can be used to generate both new and current surroundings, resulting in a more immersive and integrated gaming experience that combines the best of both worlds. AR experiences are flawless, but they need to be enhanced in order to be as immersive as virtual reality and virtual reality.
Conclusion
While many other categories will adapt to shifting gaming trends, AR will fight fiercely with other games and generate innovative concepts. In order to offer fresh ideas and originality to the market, game developers must continually push the boundaries of what is possible. This aids in the production of appealing games, the expansion of the gaming market, and the continuation of game development to extend boundaries and opportunities.