Following the debut of the Radeon RX 6600 XT in August, AMD has unveiled a new budget-priced graphics card, the Radeon RX 6600. The AMD Radeon RX 6600 brings a new cheap desktop GPU to market that sits below the RX 6600 XT in AMD's lineup and competes directly with the Nvidia GeForce RTX 3060 across the board. The XT model will clearly perform better, but the less expensive model has much of the same technology and should appeal to a wide range of players.
AMD has emphasized that its new GPU is focused on efficiency, requiring less power than higher cards such as the RX 6600 XT to sell it. According to AMD, this will allow budget gaming desktop PC builders to use a modest GPU with a power supply unit that is less than 500W. To keep costs down, the goal is to strike a balance between power and pricing, providing only what's required for an intense gaming session and nothing more. All of this should make it easier for PC gamers to acquire a good-performing GPU in a small gaming PC without having to sacrifice too much performance.
AMD's new Radeon RX 6600 graphics card is aimed at PC gamers who want to save money while yet enjoying a high frame rate for enhanced responsiveness. On top of titles like Assassin's Creed Valhalla, Battlefield 5, Far Cry 6, Call of Duty: Black Ops Cold War, and Hitman 3, the Radeon RX 6600 should regularly offer moreover 60 fps per second (fps) at 1080p resolution.
Smart Access Memory is built into the card, allowing the CPU and GPU to read and write to video memory without having to transfer data from one area to another before processing. While the Radeon RX 6600 does not have as many processing cores or ray-tracing accelerators as the Radeon RX 6600 XT, it may be sufficient for most users, allowing them to save money on games or a new mouse.
AMD Radeon RX 6600 Specs & Price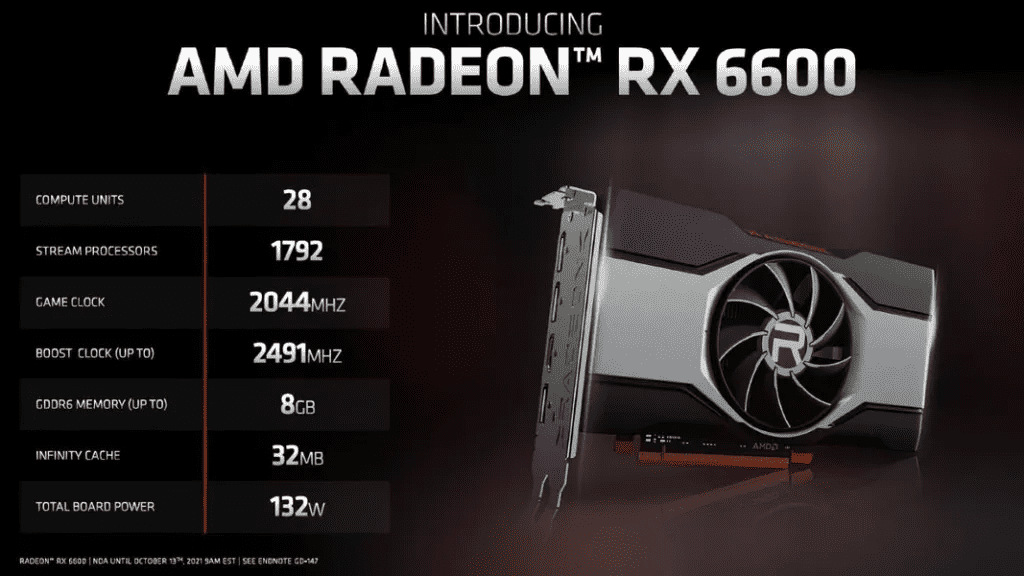 The AMD Radeon RX 6600 has four fewer compute units than the RX 6600 XT in terms of specs. Users get a base frequency of 2044MHz and a boost clock of 2491MHz with 28 compute units. In incompatible PC configurations that also employ AMD Ryzen 5000 series CPUs, you also receive 8 GB of GDDR6 VRAM, which works with AMD Smart Access Memory technology. The GPU features a 32 MB Infinity cache and a PCIe 4.0 x8 connection interface. It features a 132W average power consumption, Windows 11 compatibility, with AMD FidelityFX Super Resolution upscaling.
The AMD Radeon RX 6600 graphics card may be a budget gamer's dream graphics card, with excellent quality 1080p gaming at 60 frames per second at a price of $330. It is also available for instant purchase. However, graphics cards have been in limited supply for some months, and AMD's newest release is anticipated to be no different. Because of the low cost, there will be considerably more demand, which will exacerbate the problem. The Radeon RX 6600 from AMD is an excellent value-for-money card, and most gamers should be happy with it if they can get their hands on one.