In India, Realme has released the GT Neo 2. The new Realme smartphone is powered by a Qualcomm Snapdragon 870 processor with a 120Hz Samsung E4 AMOLED display. The phone also comes with Realme UI 2.0, which is based on Android 11. Realme also revealed its upcoming Android skin upgrade during the event. Later this year, Realme UI 3.0 will be available on compatible smartphones.
Read More: ColorOS 12 Beta update based on Android 12 launch and timeline
The latest Android 12 version, according to Realme, "continues the product idea of Seamless Fun, with enhancements in design, fluidity, customization, privacy, and functionality." It gives Realme users a whole new experience." Let's look at additional data about Realme UI 3.0, including a list of compatible devices.
Realme UI 3.0 features
There hasn't been much of a change in terms of design. The new Realme 3.0 version has a Fluid Space Design, which organizes the layout and makes it seem more fluid. The icons feature a three-dimensional design with a weighted contour.
Read More: Samsung UI 4.0 update based on Android 12 beta in India
Realme claims that it employed a semitransparent technique to give it a more youthful appearance. Once these aspects are changed, the overall icon design becomes more colorful and three-dimensional. A broader selection of colors is added in contrast to UI 2.0 to match the various characteristics of young people. The title size, font contrast, and other visual elements have all been improved to provide a better visual experience.
The latest 3.0 version, according to Realme, adds more personalization possibilities. Icons, backgrounds, fonts, and other components may all be customized according to the preferences of the user. The latest version includes global theme color customization, which is more in line with the Material You style of Android 12. As the theme color, users can choose any of their favorite colors.
Users can submit a photo on the Always-On Display (AOD) if they choose to. Realme UI 3.0 includes Emojis such as food, common items, ghosts, and more. To provide the phone with a fresh aesthetic experience, there are some new dynamic wallpapers for specific models.
The new AI Smooth Engine has been improved to provide better smoothness while consuming less power. Memory consumption has been increased overall, while memory fragmentation has been reduced. Realme further says that memory use has been reduced by 30%, total app launching performance has been improved by 10%, and battery life has been increased by 12% without affecting overall app performance.
Realme UI 3.0's animations are also more optimized owing to the AI animation engine. The floating window 2.0 has been introduced to the new custom skin, allowing users to manipulate the floating windows any way they like.
The privacy features of Realme UI 3.0 have also been updated. A new subtle stitching feature allows users to discreetly share their favorite images or movies. Location information and picture data, such as timestamps, camera manufacturers, and settings, can be deleted by users.
App permissions have extra restrictions, such as the use of non-specific locations to protect location privacy. There are also new visual representations that allow users to see how the applications handle their personal information. The user interface shows how to utilize application permissions in graphics, as well as a list of app permissions and extensive information on how to use individual apps.
Rollout schedule for Realme UI 3.0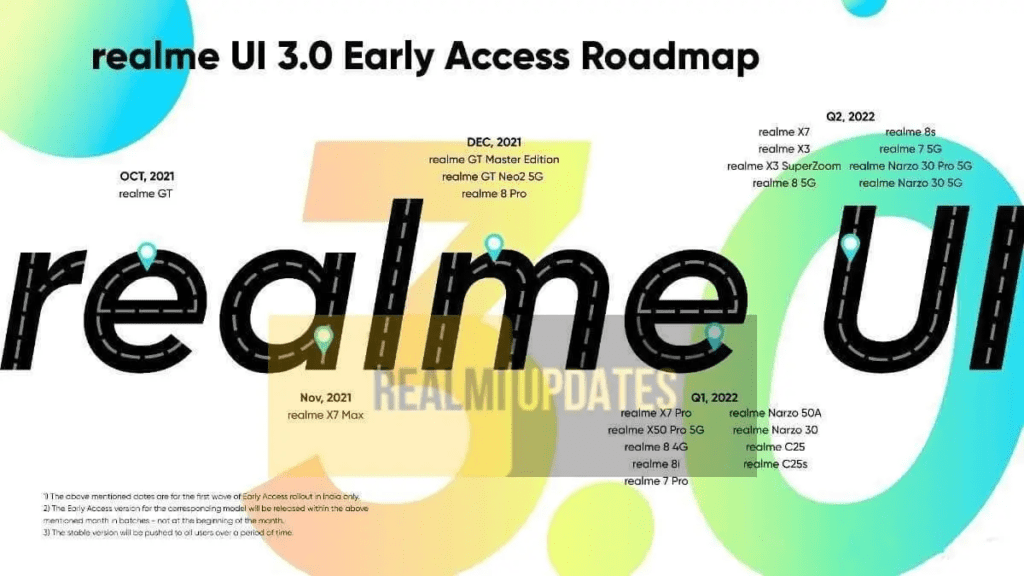 The Realme GT 5G will be the first of the eligible smartphones to receive the Realme UI 3.0 upgrade, according to Realme. The upgrade will be available in October for the flagship smartphone. The new update will be available in December 2021 for the Realme X7 Max, Realme GT Master Edition, Realme 8 Pro, and Realme GT Neo 2.
The new update will be available in Q1 2022 for the Realme X50 Pro 5G, Realme 7 Pro, Realme X7 Pro, Realme 8 4G, Realme Narzo 30, Realme C25, Realme C25s, Realme Narzo 50A, and Realme 8i. Finally, Realme UI 3.0 will be released in Q2 2022 for the Realme X7, Realme X3, Realme X3 SuperZoom, Realme 8 5G, Realme 8s, Realme 7 5G, Realme Narzo 30 Pro 5G, and Realme Narzo 30 5G.